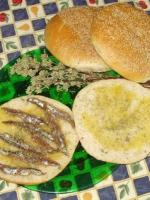 Muffoletta means a type of local bread, – more correctly, it is a sandwich bread shaped purposely to be stuffed with local olives, anchovies, cheese, tomato, oregano, pepper, salt.
The muffoletta bread filled in this way is called "pane cunzato" in Sicilian.
The Festival of muffoletta in Trappeto is held every year on the waterfront.
The day can change and much depends on the weather!
We will keep you updated regarding the date.