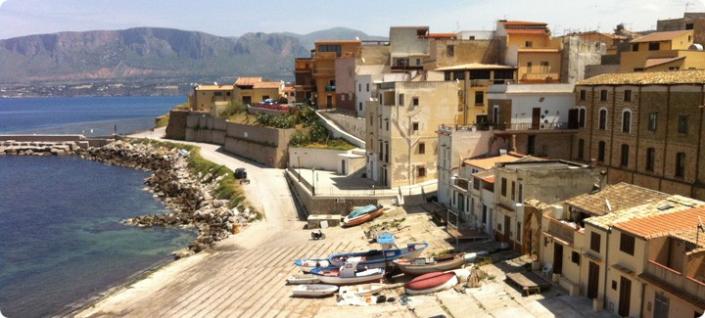 The house is situated directly on the picturesque seaport of Trappeto and it has one of the most exclusive location in the village.
The house is built on two floors:
ground floor and first floor.
In the area outside the house, there is a table, chairs, deck chairs and parasol - the ideal setting to enjoy a drink in front of the beach, a candlelit dinner with a background of waves or simply relax with the scent of the sea just a few meters away.
The ground floor consists of the kitchen and living room with dining table, refrigerator, sofa, satellite TV, and bathroom with shower and bidet.
The first floor has a bedroom with double bed and a bunk bed, from the window you can enjoy stunning views over the sea that will make the perfect start to your day.
In addition to being in a valuable location to get about the village, the house is ideally situated to enjoy the magical sunsets that Trappeto offers.
For lovers of fish, in the morning simply wait for the return of the fishing boats to make the most of local fresh fish at bargain prices.
The house is ideal for a couple but can accommodate up 4 persons. Everything you need for the house is supplied - from equipment for the kitchen to bed linen and towels. You don't have to worry about a thing!
The supermarket, bank, train station, the bus stop and all the most important services are within walking distance.
The beach is aprox 8 minutes walk.