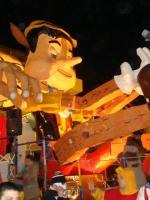 The carnival in Trappeto, with the parade of floats through the streets of the town, has now reached its 9th edition!
Since 2011, the festival also has its own summer version! As well as the Carnival in February, it is now in fact also celebrated in August! As soon as it is ready, we will post the summer event program.
This year the event takes place in the following days 12, 19 and 21 February 2012 at 3pm! Do not miss it!