Trappeto, thanks to its excellent geographical position, has several points of interest and many reasons for leaving its visitors with a memory that time will find difficult to erase.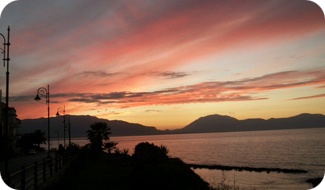 Trappeto boasts areas of great scenic and cultural interest, more notably its seascape panoramic, rich with coves immersed in blue sea, dominated by intense sunsets which reveal a backdrop of rugged nature in all of its beauty, making Trappeto look like a postcard you will never forget.
Aside from the local beauty, every Trappeto visitor will have the opportunity to visit cities and other places of great interest and of undisputed historical and monumental importance – all of which are easily accessible by car.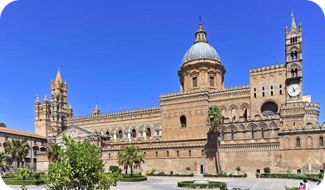 A must see for anyone who reaches Sicily's shores is, without a doubt, Palermo, Sicily's capital and visiting card which is only 40 km from Trappeto.
From the port of Palermo one can take a ferry to the island of Ustica - 1st marine resort of Italy, famous for its remarkable seafloor flora.
From Palermo to Monreale, the journey couldn't be more advantageous!
This Norman town, best known for its mosaics and its catherdral, is only 8km from Palermo or 45 km from Trappeto.
If you love good fish, as well as sampling what you find in Trappeto, we advise you to go to Sferracavallo (41 km) and Mondello (43 km) where you can also find a beautiful beach. If you love nature, you should visit the natural reserve of Capo Gallo in this area!
Without a doubt Cefalù (109 km) also merits a visit, one of the greatest seaside resorts in the whole province of Paler
mo
with its beautiful cobbled streets, its cathedral and its medieval wash-house.
Located 25 km from Trappeto above the towns of San Cipirello and San Giuseppe Jato, rises majestic Mount Jato (852m) one of the most important archeological areas of Sicily, on top of which you will find the archaeological park that houses the ruins of the ancient city of Jetas that dates back to year 1000 ante Christum.
Another stop could be Corleone (40 km) - whose name is associated with the movie "The Godfather" - but is also especially important due to the C.I.D.M.A., that is, the International Centre for Documentation on the Mafia and the anti-Mafia movement (possibility for guided tours in English).
If we must limit ourselves to only the most significant locations within a short distance of Trappeto, and not even all of them at that, we need to move westwards to Erice (65km).
This is an ancient and picturesque medievil village overlooking the city of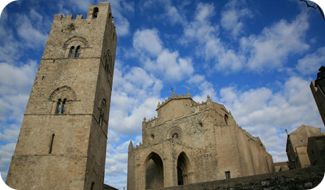 Trapani (which is 50km from Trappeto) and from there you can reach Marsala in no time; the city of wine and salt. If you fancy a day trip, why not catch a ferry or hydrafoil destined for the nearby Egadi Islands: Favignana, Levanzo and Marettimo on a daily basis.
Approximately 80km from Trappeto is the town and fishing port of Mazara del Vallo – this place definitely deserves a visit! Do not miss out on the museum of the Dancing Satyr, the historic centre or indeed the infamous fish cous cous!
Twenty kilometres along the motorway from Trappeto, you will arrive at Castellammare del Golfo, a very interesting city, much appreciated for its tourist town of Scopello – famous for its extremely clean sea and its location along the borders of the Zingaro Nature Reserve, stretching over 7km!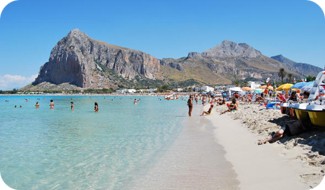 This is a must see and a great opportunity for an excellent hike, or why not take a motorboat excursion out to sea?

Around 64 km from Trappeto you will find San Vito Lo Capo, a city that has one of the most beautiful and famous Sicilian beaches and annually hosts the International Festival of cultural integration: the Cous Cous Fest.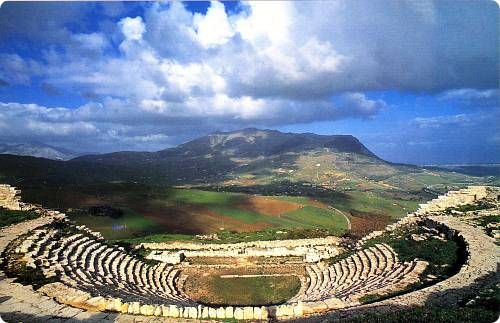 A couple of hours must also be dedicated to a visit to Segesta also located only 33 km away, with its majestic archaeological park; and Selinunte (80km) a city of Greek origins, founded in the second half of the seventh century B.C. which is among the most important archaeological parks in the Mediterranean with the most extraordinary collection of ruins.
170 km from Trappeto is Agrigento with its world-famous temples that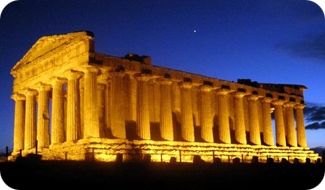 mere words cannot describe and that every visitor of Sicily should see.
These are just some of the destinations that are easily reachable from Trappeto and that one should not miss, but there are many more, making Trappeto the perfect holiday location for those who want to enjoy the sun and the sea and, at the same time, visit one of the most touristic areas of Sicily.